About Us
El Cafe is a Breakfast takeaway in Leicester. Why don't you try our Tuna Mayo Traditional Salad or Chicken Tikka Panini?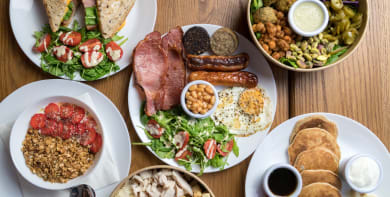 Reviews
249 reviews
Matthew
"oh m8! banging brekky baguette! made my day!!"
31/05/2020
Laky
"Food arrived before the time given Which was really good as we where hungry It arrived hot, fresh Would order again from El Cafe"
27/05/2020
Colin
"Will be ordering more from here again, it was very nice."
24/05/2020
Sean
"My daughter had the meatballs and pasta and loved it, all the food was good and hot"
22/05/2020
Menu
Vegetarian Breakfast
Any 5 item breakfast
Extras available
£4.00
Quorn Sausage Cob
Extras available
£2.00
Quorn Sausage Sandwich
Extras available
£2.00
Quorn Sausage Baguette
Extras available
£3.00
Quorn Sausage, Egg & Chips
Extras available
£4.00
Quorn Sausage, Mash & Mixed Veg
£5.00
Tuna, Cheese Mayo Mix Panini
£3.50
Tuna, Sweetcorn Mayo Mix Panini
£3.50
Vegetable Sausage Cob
Extras available
£2.00
Vegetable Sausage Sandwich
Extras available
£2.00
Vegetable Sausage Baguette
Extras available
£3.00
Vegetable Sausage, Mash & Mixed Veg
Extras available
£5.00
Vegetable Sausage, Chips & Egg
Extras available
£4.00
Veggie Burger & Chips Double
£6.00
Veggie Burger & Chips Single
£5.00
Cheese, Onion & Mayo Mix Panini
£3.50
Tuna, Sweetcorn & Mayo Mix Panini
£3.50
Tuna, Cheese & Mayo Mix Panini
£3.50
Chicken, Bacon & Mayo Mix Panini
£4.00
Chicken Coronation Panini
£4.00
Chicken, Stuffing Mayo Mix
£4.50
*Fish Finger, Egg & Chips
£2.75
*Chicken Nuggets, Egg & Chips
£2.75
*Meatballs & Pasta Shapes
£4.00
Tomato Homemade with Bread and Butter
£3.50
Leek & Potato Homemade with Bread and Butter
£3.50
Carrot & Coriander Homemade with Bread and Butter
£3.50
Vegetable Homemade with Bread and Butter
£3.50
Onion Homemade with Bread & Butter
£3.50
Creamy Garlic Mushroom Homemade
With bread & butter
£3.50
Broccoli & Stilton Soup
With bread & butter
£4.00
Traditional Ham Salad
include ham, lettuce, tomato, onion, cucumber, coleslaw, beetroot
£5.00
Traditional Cheese Salad
Include cheese, lettuce, tomato, onion, cucumber, coleslaw, beetroot
£5.00
Traditional Chicken Mayo
Include chicken, lettuce, tomato, onion, cucumber, coleslaw, beetroot
£5.00
Tuna Mayo Traditional Salad
£5.00
Chicken Stuffing Mayo Mix with Traditional Salad
£5.00
Chicken Tikka with Traditional Salad
£5.00
Items Lincolnshire Sausage
Items Well Done Fried Egg
Vegetarian Item Quorn Sausage
Vegetarian Item Hash Brown
Vegetarian Item Bubble & Squeak
Vegetarian Item Heinz Baked Beans
Vegetarian Item Chopped Tomato
Vegetarian Item Fried Egg
Vegetarian Item Scambled Egg
Vegetarian Item Fried Bread
Vegetarian Item Chips Handful
Vegetarian Item Vegetable Sausage
Rice Option Brown Basmati
Rice Option Lime & Coriander Basmati
Tuna, Cheese & Mayo Mix Cold Cob
£2.50
Tuna, Cheese & Mayo Mix Cold Sandwich
£2.50
Cheese, Onion & Mayo Mix Cold Cob
£2.50
Cheese, Onion & Mayo Mix Cold Sandwich
£2.50
Chicken, Bacon & Mayo Cold Cob
£2.50
Chicken, Bacon & Mayo Cold Sandwich
£2.50
Coronation Chicken Cold Cob
£3.25
Coronation Chicken Cold Sandwich
£3.25
Chicken Tikka Cold Sandwich
£3.25
Chicken, Stuffing Mayo Cold Cob
£3.25
Chicken, Stuffing Mayo Cold Sandwich
£3.25
Beef Burger & Chips Single
£5.00
Beef Burger & Chips Double
£6.00
Chicken Burger & Chips Single
£5.00
Chicken Burger & Chips Double
£6.00
Veggie Burger & Chips Double
£6.00
Veggie Burger & Chips Single
£5.00
Plain Jacket Potato with Butter
Extras available
£3.00
Chocolate Corn Flake Cake
£0.50
Ben & Jerry's 500ml Chocolate Fudge Brownie
£4.95
Ben & Jerry's 500ml Cookie Dough
£4.95
Ben & Jerry's 500ml Phish Food
£4.95
Ben & Jerry's 500ml Caramel Chew Chew
£4.95
Chocolate Iced Ring Doughnut
£0.60
Almonds Toblerone Tarta
Gluten free
£2.75
Sultana Scone
Served with butter & jam 
GLUTEN FREE
£2.00
Lemon with White Chocolate Muffin
£1.60
Gluten Free Cherry Bakewell
£1.20
Cherry Bakewell Tart Slice
£1.25
Scone with Butter & Jam
Fruit
£2.00
Raspberry & Almond Tart
Gluten Free
£1.75
Cheesy Mash Topped with Fresh Tomato
£4.25
Lincolnshire Sausage Sandwich
£2.00
Lincolnshire Sausage & Bacon Cob
£3.00
Lincolnshire Sausage & Bacon Sandwich
£3.00
Chicken Nuggets, Eggs & Chips
£5.00
Horseshoe Gammon with Chips & Egg
£8.50
Bangers & Mash with Mixed Vegetables
£5.00
Lincolnshire Bangers & Mash with Mixed Vegetable
£5.00
Quon Bangers & Mash with Mixed Vegetables
£5.00
Chilli Con Carne Homemade & Rice
£6.00
Chilli Con Carne Homemade & Chips
£6.00
Vegetable Curry Homemade & Rice
£6.00
Vegetable Curry Homemade & Chips
£6.00
Chicken & Vegetable Curry Homemade & Rice
£6.50
Chicken & Vegetable Curry Homemade & Chips
£6.50
Bolognese Homemade & Chips
£6.00
Verdi Beef Lasagne with Chips
£7.95
Cottage Pie with Mixed Vegetables
£6.95
Omelette - Small
Served with 2 filling
Extra filling available
£3.00
Liver & Onions with Creamy Mash & Peas
£7.95
Verdi Beef Lasagne with Salad
£7.95
Gluten Free Thai Green Chicken Curry & Rice
With choice of basmati rice, brown basmati rice or lime & coriander basmati rice
£7.95
Roast Silverside of Beef in Gravy
With creamy mash & mixed vegetables
£8.50
Gluten Free Fish Pie
Servd with garden peas
£10.95
Gluten Free Mushroom Stroganoff With Rice
£6.99
Gluten Free Mushroom Stroganoff With Chips
£6.99
Gluten Free Mushroom Stroganoff With Mash
£6.99
Gluten Free Mushroom Stroganoff With Jacket Potato
£7.99
Peppered Lamb with Creamy Mash & Mixed Vegetables
£9.00
Yazoo Milkshakes Strawberry
400ml
£1.40
Yazoo Milkshakes Banana
400ml
£1.40
Yazoo Milkshakes Chocolate
400ml
£1.40
Monster Energy Ultraviolet (Sugar Free)
£1.95
Monster Energy Ultra (Zero Sugar)
£1.95
Oasis Summer Fruits - 0.5L
£1.45
Oasis Chilled Cherry - 0.5L
£1.50
Capri-Sun Blackcurrant - 200ml
£1.00
Fanta Fruit Twist - 0.33L
£1.50
Fanta Fruit Twist Zero - 0.5L
£1.09
Monster Mixxd Punch - 500ml
£1.95
Monster Juiced Mango - 500ml
£1.95
Oasis Citrus Punch - 0.5L
£1.45
Tango Tropical Sugar Free - 330ml
£0.90
Tango Strawberry & Watermelon Sugar Free - 330ml
Sugar Free
£0.90
Old Jamaica Ginger Beer - 330ml
£1.00
Dandelion & Burddock - 330ml
£0.90
J20 Apple & Mango - 275ml
£1.90
Elderflower Presse Carbonated Spring Water 330ml
£1.75
Any 5 Items
Bacon, sausage, Lincolnshire sausage, fried egg, scrambled egg, poached egg, baked beans, chopped tomato, black pudding, hash brown, chips, toast, fried bread, vegetarian sausage, bubble & squeek
£4.00
Lincolnshire Sausage Hot Baguette
£3.00
Quorn Sausage Hot Baguette
£3.00
Sausage & Bacon Hot Baguette
£4.00
Lincolnshire Sausage & Bacon Hot Baguette
£4.00
Seabrook Crisps Sea Salt
Gluten free
£0.90
Seabrook Crisps Salt & Vinegar
Gluten free
£0.90
Seabrook Crisps Cheese & Onion
£0.90
Tuna, Cheese & Mayo Mix Cold Baguette
£3.50
Cheese, Onion & Mayo Mix Cold Baguette
£3.50
Chicken, Bacon & Mayo Cold Baguette
£4.00
Chicken Carnation Cold Baguette
£4.00
Chicken Tikka Cold Baguette
£4.00
Chicken, Stuffing Mayo Mix Baguette
£4.50
Contact Us
Find Us
3 Spring Lane, Leicester, LE181LW
We deliver to
LE1, LE18, LE19, LE2, LE3, LE4, LE5, LE7, LE8